Entertainment
FEATURED
Media News
OTT Platform
Playverse india has Started Pre-Registration for its OTT Platform's Launch
Summary
Playverse Anime India OTT Launch's Pre Registration Started on 8th June , 2022 . You can register for Playverse now ! playverse.in today announced on its social media platform that Pre-registration for its upcoming OTT App's launch has started.All you […]
Playverse Anime India OTT Launch's Pre Registration Started on 8th June , 2022 . You can register for Playverse now !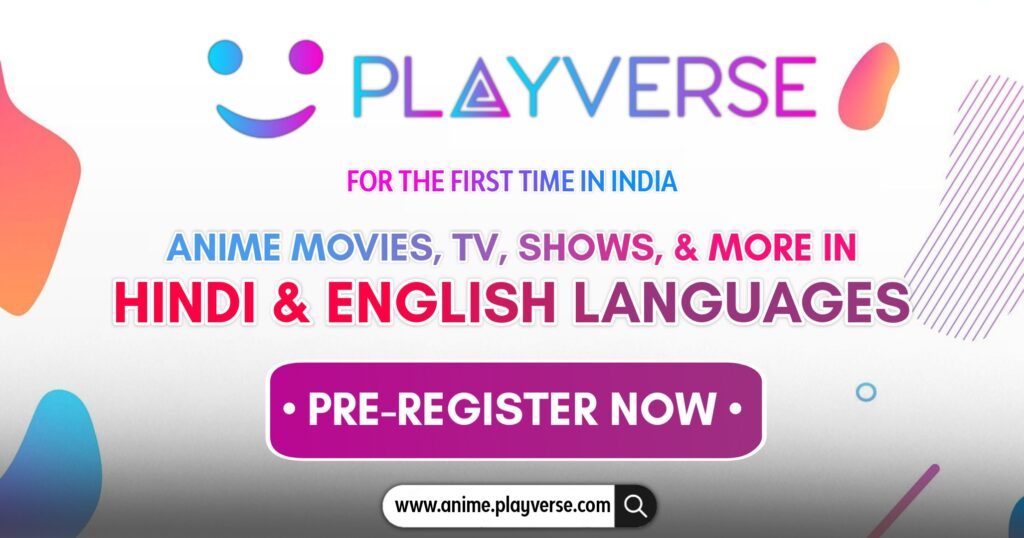 playverse.in today announced on its social media platform that Pre-registration for its upcoming OTT App's launch has started.All you have to do go to the link :- http://www.anime.playverse.in & follow the instructions on their website page.

👉 To pre-register, users have to go to the above mentioned Link ( http://www.anime.playverse.in ) and choose your preferred Plan. After choosing plan , users have to fill up theirs first , last name with their email address & then click on the Register button.
CLICK BELOW LINK FOR PRE-REGISTRATION TO PLAYVERSE


-: PLAYVERSE PLANS & PRICINGS :-


➡️ Playverse offers a variety of plans to meet What users want.

👉 Playverse starts with a plan that is always free , " Fan Basic " . With this plan users can watch their favourite anime shows with limited access for free 🆓. It's an advertisement supported plan which means that you will see adverts during your viewing of anime.Here you only get standard definition — there is no high definition for this plan.

👉 Then there is a premium membership plan called " FAN GOLD " . For this plan , Users have to pay ₹ 200 /- per month to watch their favourite Animes in hindi dubbed with Ad-free & High Definition with offline viewing.

👉 Then there is a yearly plan comes with ₹ 1800 /- per year.This plan is called " FAN GOLD PLUS ".With this subscription, you also receive access to High definition & offline viewing and a 25% discount off with Subscription price And full access to Playverse Library & also have privilege to choose which anime shows or movies come next to the platform.