Entertainment
Netflix India
OTT Platform
TV Shows/Movies
Netflix India to Stream All 3 Seasons of The Seven Deadly Sins from January 13 , 2021
Summary
Netflix India revealed on January 1st ( Friday ) that the OTT platform would begin streaming All Previous 3 Seasons of The Seven Deadly Sins ( Holy War – TV Special , Imperial Wrath of The Gods & Revival of […]
Netflix India revealed on January 1st ( Friday ) that the OTT platform would begin streaming All Previous 3 Seasons of The Seven Deadly Sins ( Holy War – TV Special , Imperial Wrath of The Gods & Revival of Commandent ) from January 13, 2021.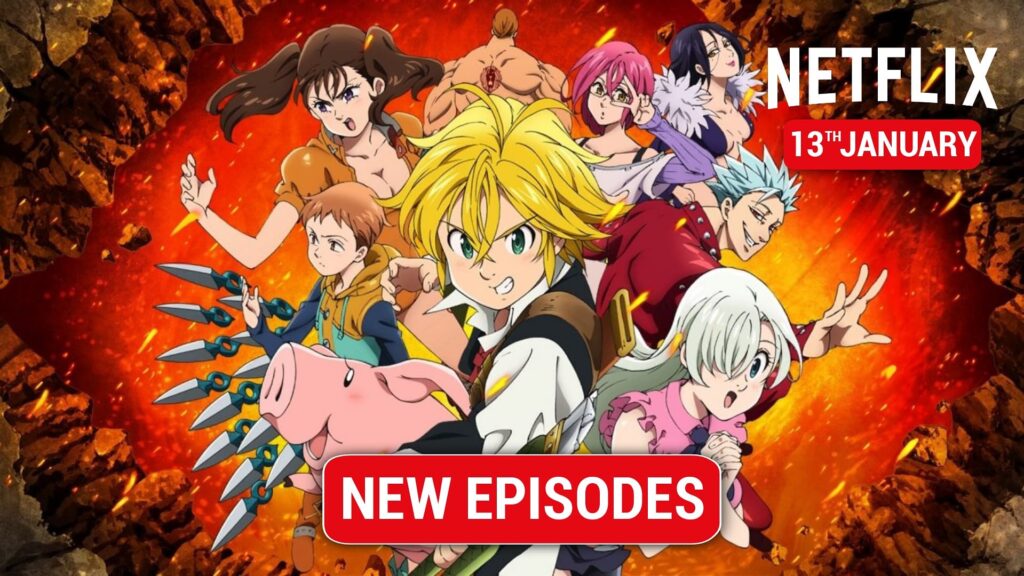 The Seven Deadly Sins was one of the first anime licensed by Netflix way back in 2015 and now enters its fifth after ignoring for years Netflix India has finally decided to Adds more seasons of this Anime Series to its Anime Catalogue.
The Seven Deadly Sins (Nanatsu no Taizai ) is a Japanese manga series written and illustrated by Nakaba Suzuki.
" The series follows Elizabeth, the third princess of the Kingdom of Liones, who is in search of the Seven Deadly Sins, a group of former Holy Knights who were disbanded after the kingdom was overthrown. She enlists the help of Meliodas and Hawk, the leader of the Seven Deadly Sins and the leader of the order of scraps disposal, to assemble the remaining members of the Seven Deadly Sins and take back the kingdom from the Holy Knights."
Nakaba Suzuki's original manga based a 24-episode television anime series aired in 2014 and 2015. Animax India premiered the first television anime in March 2015 & then They aired all the 3 Seasons of The same Anime including the TV Special one. The first Season is already available on Netflix India for Streaming.
The Latest Season titled The Seven Deadly Sins: Dragon's Judgement is slated to premiere on TV Tokyo in Japan on January 6 after COVID-19 pushed back its original October release date & will likely premiere on Netflix in 2021.