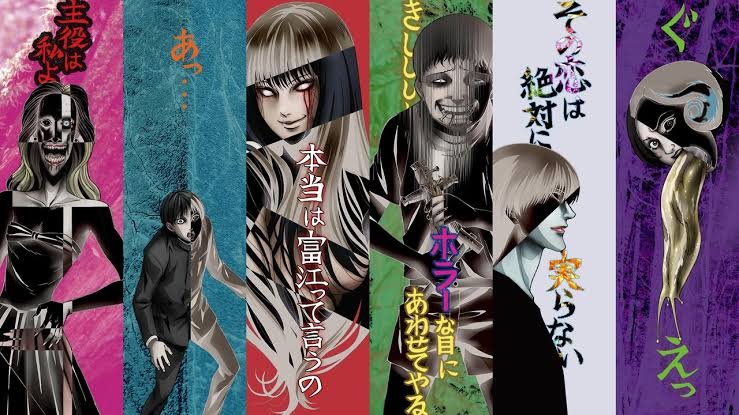 KC Global Media's Owned SouthEast Asian Anime Channel , Animax Asia has announced that they will be Premiering " manga artist Junji Ito's " Junji Ito Collection ", a horror Anime Anthology series adapts stories from several Ito's horror Collection on August 4 , Double Episodes , on Monday and Tuesday at 10pm ( 9pm JKT/BKK !
Junji Ito Collection's Animated by Studio Deen & Premiered on January 5, 2018.
In 2019 Adult Swim's Toonami was announced that they would be producing a four episode mini-series based on Ito's beloved Uzumaki for Adult Swim/Toonami in 2020 whose work is currently in progress.
The announcement was made at Crunchyroll Expo during Labor Day Weekend, at a Junji Ito Live Drawing Session, no less. Uzumaki will be adapted into a four-part mini series for Adult Swim's late night programming block Toonami in 2020, ahead of the Japanese broadcast. Mushishi director Hiroshi Nagahama will direct, and film composer Colin Stetson, who did the music for Hereditary will handle the music.
Story Synopsis :-
Kurouzu-cho, a small fogbound town on the coast of Japan, is cursed. According to Shuichi Saito, the withdrawn boyfriend of teenager Kirie Goshima, their town is haunted not by a person or being but a pattern: UZUMAKI, the spiral—the hypnotic secret shape of the world.
The upcoming four-episode Uzumaki miniseries will retrace Ito's tale of a town beset by a curse, inflicting spiral body horror on everything (and everyone) within it.
About Animax Asia :
Animax is home to some of the biggest anime titles in the world that enjoy great following across the region. In addition, the channel created TV history in April 2009 by becoming the world's first regional broadcaster to air an anime series at the same time as Japan and followed that with five other simulcast anime series. Currently reaching 46 million viewers in 17 markets across Asia, Animax aims to offer anime for everyone