FEATURED
Latest
Media News
Netflix India
online contents
OTT Platform
Netflix India To Stream My Hero Academia Season 5 on March 29
Summary
My Hero Academia's upcoming fifth season's Indian Release Date is Announced By Netflix India ! Medialink Entertainment Limited's Ani-One Asia , anime Content Distributor in Southeast Asia and South Asia has announced on Wednesday on its social media platforms that […]
My Hero Academia's upcoming fifth season's Indian Release Date is Announced By Netflix India !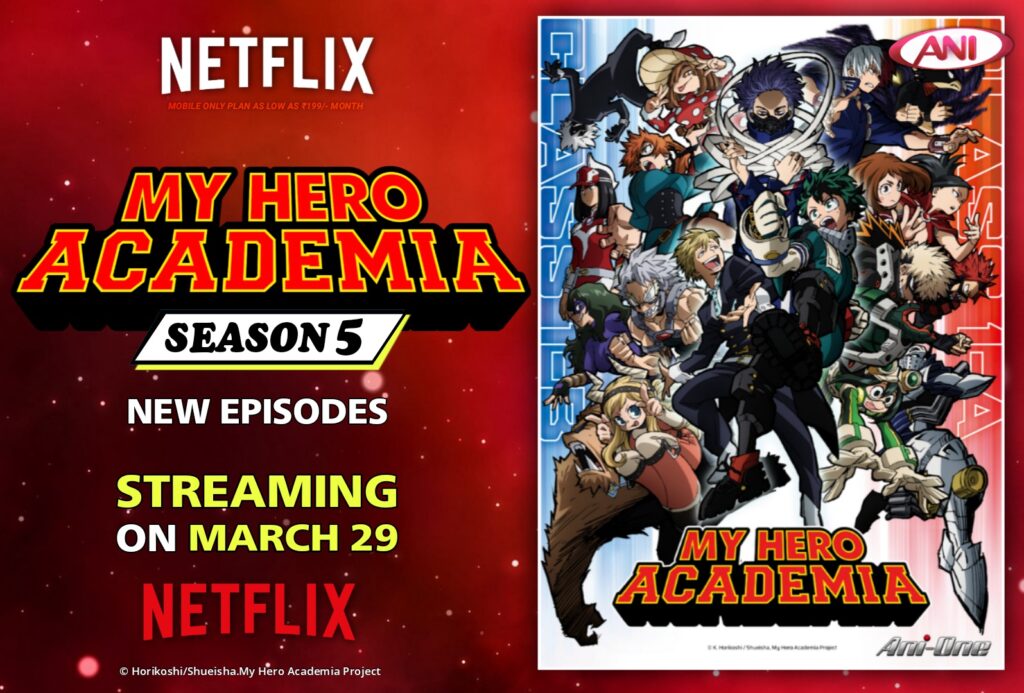 Medialink Entertainment Limited's Ani-One Asia , anime Content Distributor in Southeast Asia and South Asia has announced on Wednesday on its social media platforms that they will be Bringing Fifth season of  " My Hero Academia " in March in India along with the Company's Partnered Paid Streaming Services like Tencent , wetv , Iqiyi & Bilibili..etc in Southeast Asian Countries.
The upcoming season will be Streaming on Ani-one Asia's Partnered Streaming Platforms like :- Catchplay, Shushiroll , My TV Super & LineTV on March 27 in Hong Kong, Taiwan, Macao, Singapore, Brunei, Malaysia, Indonesia and Vietnam.
Netflix has announced that they will be Streaming The latest Season of " My Hero Academia " from March 29 onwards , Every Monday only in India & Asia. 🇮🇳
FUNIMATION & Crunchyroll also announced that they will begin streaming the anime's fifth season on the same day in the U.S., Canada, the U.K., Ireland, Australia, New Zealand, South Africa, Iceland, Sweden, Norway, Denmark, the Netherlands, Mexico, Central America, South America, and the Caribbean.
Season 5 will begin with the Joint Training Arc, pitting the students of Class 1-A and Class 1-B against each other in team battles to showcase their growth. The upcoming season will also mark a My Hero Academia milestone, as it features the show's 100th episode.
Recently PVR Cinemas released 2 Films of this Anime Franchise , i.e :- My Hero Academia Two Heroes & My Hero Academia : Heroes Rising film in India on February 12th & March 12th Respectfully with a month gap.
About My Hero Academia :-
Based on the manga by Kohei Horikoshi, My Hero Academia follows the adventures of Izuku "Deku" Midoriya as he trains to be the world's greatest superhero

Source :- Netflix India , Ani-One Asia , Anime News Network