Good News for Indian Anime fans who want Hindi dubbed Animes in India.Netflix india is finally Officially Streaming one of its own produced Anime series of one of best anime franchise Japan, Ghost In The Shell SAC_2045 Season 1 from Ghost in the shell Anime Franchise in Hindi Dubbed.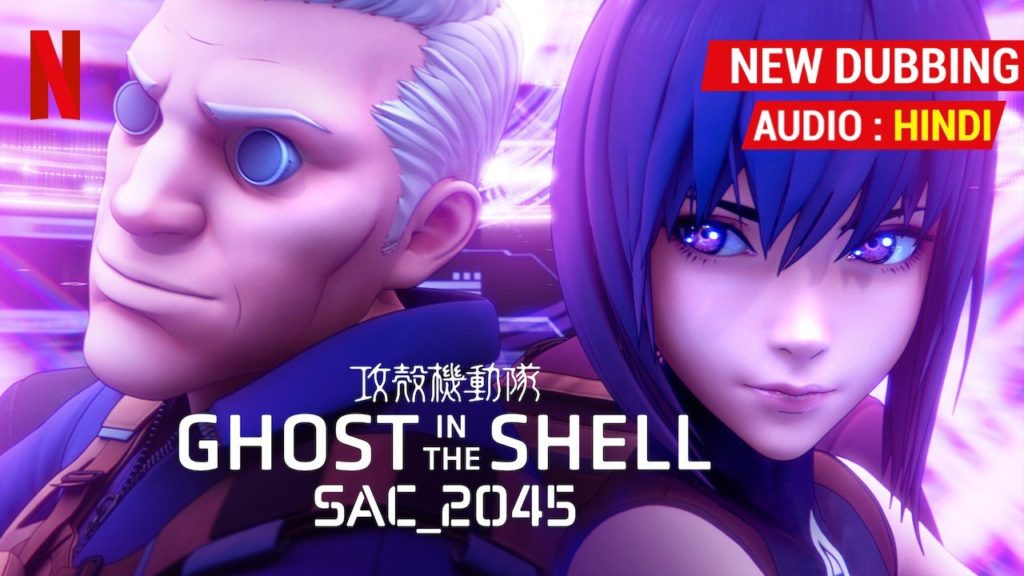 Ghost in the Shell: SAC 2045攻殻機動隊 SAC_2045Kōkaku Kidōtai SAC_2045 TV Anime is Directed by Shinji Aramaki ,Kenji Kamiyama by Studio Production I.G & SOLA DIGITAL ART & is Produced by Production I.G, Kodansha
Ghost in the Shell: SAC 2045 is a Ghost in the Shell anime produced by Netflix. The character designer was the russian artist Ilya Kuvshinov. It was the first series in full CGI animation as an animated series and, to achieve a sense of photo-realistism with 3D graphics, used utilise motion capture technology for realistic motion.
It was released on April 23, 2020 in Japanese, and directed by Shinji Aramaki and Kenji Kamiyama. The English dub wasn't made available until May 3 due to the COVID-19 pandemic causing production delays.
This TV Anime is Dubbed in Hindi by Prime focus Technologies India with
Dheerendra Barfa as Dubbing director , Mahantesh Guggalshetty & Paul Cardoz as Sound Mixers , Harpreet Chahal as recordist , Dhananjay Mehrotra as Story Adapter & Sumant Jamdar as operation manager .
Here are some Voice artists names & their associated Characters
Motoko Kusangi – Neha Gargava
Batou – Manoj pandey
Stan – Archit Maurya
Ishikawa – Vallabh Bhingarde
Saito – Mohit Sinha
Tachikoma A,B,C – Jigna Bharadwaj
Togusa – Vishal Menon
Oldman – Manish Tadon
Tate – Krutrath Trivedi
Plot Synopsis
When sustainable war spawns a "post-human" threat, Major Kusanagi and her Section 9 team are called back into action.
In the year 2045, after an economic disaster known as the Synchronized Global Default, rapid developments in AI propelled the world to enter a state of "Sustainable War". However, the public is not aware of the threat that AI has towards the human race.
Full-body cyborg Major Motoko Kusanagi and her second-in-command Batou are former members of Public Security Section 9, who are now hired mercenaries traveling hot devastated American west coast. This land is full of opportunity for the major and her team, they utilize their enhanced cyberbrains and combat skills from their time working in Section 9. However, things get complicated with the emergence of "post humans," who have extreme intelligence and physical powers. The members of Section 9 comeback together again in order to face this new threat.