Media News
AKATSUKI ENTERTAINMENT To Bring Best of Japanese Kids Entertainment Shows/Movies in Hindi Dub in India in 2020!
Summary
Japanese entertainment company Akatsuki Inc announced that they will be bringing Japanese Animes viavideo streaming players like NETFLIX , AMAZON PRIME VIDEO , DISNEY + HOTSTAR , YOUTUBE and cable television services in 4 Major Indian Languages – ENGLISH , […]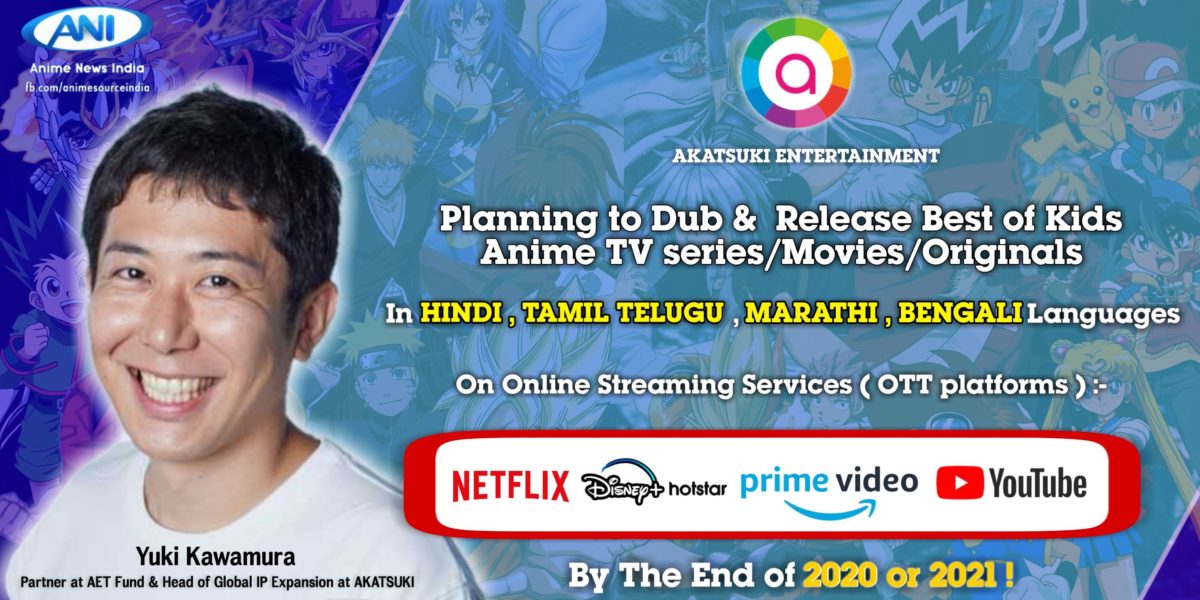 Japanese entertainment company Akatsuki Inc announced that they will be bringing Japanese Animes via
video streaming players like NETFLIX , AMAZON PRIME VIDEO , DISNEY + HOTSTAR , YOUTUBE and cable television services in 4 Major Indian Languages – ENGLISH , HINDI ,TAMIL & TELUGU DUB/SUB for Indian audiences.
Starting with video-on-demand services such as Netflix, Amazon Prime Video, Disney+ Hotstar and YouTube, the company best known for mobile games such as Dragon Ball Z (that had notched up 250 million downloads since its release, according to a Forbes report) and Bringing Up My Girl, and franchises such as Japan Sinks 2020 and Kumarba, said it will initially dub Japanese originals into Indian languages which will be available by the end of this year.
"Apart from English and Hindi, we're looking at dubbing them into other top Indian languages such as Tamil, Telugu, Marathi and Bengali. But in another two to three years, we want to looking at developing Indian originals with local writers and talent here,"
said Yuki Kawamura, head of global IP (intellectual property) expansion, in-charge of international business development and corporate development at Akatsuki Inc.
Kawamura said the popularity of Japanese anime such as Doraemon and Shin-chan in India helped the company recognize the potential of the market.
"In contrast to Japan which has an ageing population, India has a huge kids segment which doesn't have access to quality video content except perhaps live action," Kawamura added. India is the company's only international focus, at the moment where it plans to invest "multiple millions of dollars every year."
Conversations with cable TV and VoD platforms had started earlier this year but things have paused because of the covid-19 pandemic. Akatsuki wants to eventually get to developing local Indian IPs but since that will take some time, it wants to bridge the timeline by dubbing five to six shows currently in the pipeline, details of which Kawamura declined to share.
Having long been seen as an entirely kids genre, animation is slowly catching up with Indian audiences. Disney's animation film The Lion King, voiced by Shah Rukh Khan, crossed the ₹155 crore mark last year, emerging as the highest grossing Hollywood animation flick in India. Netflix is gung-ho about the success of Indian animation original Mighty Little Bheem that it says had the largest launch of any preschool original and the second-largest launch of any kids' original animated series on the service. Several traditional forms of media may find their expansion derailed but the Indian animation and VFX segment is estimated to grow to Rs. 156 billion by 2022 according to the Ficci-EY media and entertainment industry report 2020.

"We've seen the trend set by companies like Disney in India and we hope to enhance that," Kawamura said. "The demand for animation has always been there but I don't think there was full supply and we want to bridge that gap."
During An Q&A session, Yuki Kawamura, partner at AET Fund and head of global IP expansion at Akatsuki, told KrASIA that that plan has been delayed because of the global healthcare crisis.
KrAsia (Kr): Is there a specific sector or demographic that AET Fund is after in India?
Yuki Kawamura (YK): Our initial thesis in India was to invest in the lifestyle space, so that's why we invested in Yulu Bike two years ago. After several months, we learned that there are many opportunities in the entertainment space, which is our strength. Since last year, we have been trying to focus on companies that are in digital entertainment. Our investment thesis in India now is centered around entertainment, content, and media space. And we would definitely want to focus on mobile gaming; then something related to streaming, like video streaming; and the third area is vernacular content. Those three are our top priorities.
We don't invest in any offline businesses like mobility solutions or O2O types of businesses anymore.
Kr: Why is AET Fund's investment focus shifting from lifestyle to digital entertainment?
YK: AET fund is the CVC arm of Akatsuki, which is the Japanese online gaming company. We have expertise in gaming and content, so we want to leverage that in India. That's why we are now laser-focusing on those verticals. In the beginning, because we had no set brand in India, we had to build relationships with the local startup ecosystem. So we often got more relationship-type of deals, but now we have gained trust and relationships, we can now invest in top talent verticals.
Kr: What is AET's criteria for investing in a digital entertainment company?
YK: Since we invest in early-stage startups, it is all about the founder fit. Our decisions depends on whether the founder has the passion and capability to actually drive his or her business.llllll
Kr: Since AET invests in early-stage companies and it is difficult to have in-person meetings right now, will future investments be impacted because you cannot meet with founders?
YK: Because I can't visit India anymore, it's really tough to proceed with new engagement. But we usually start developing relationships with founders in advance and begin engaging with them a year before we actually make the investment. So such conversations are still going on. Right now, we are in conversation with ten to 15 companies through Zoom calls and WhatsApp. These are companies that are either in gaming or video streaming or creating animation content for kids.l
There are not many new leads for now, but we are trying to cultivate the relationships we already have so that we can continue our investment.
Kr: Are you looking at new areas like education tech and online meeting platforms?
YK: One of our portfolio companies is called Doubtnut. They offer video content for vernacular students. And that's growing rapidly. If startups leverage that kind of content or streaming, then yeah, we would consider an investment. We are not looking at online meeting platforms in India right now. But those that can integrate video chat are definitely among the strongest media platforms. We have invested in a US company called Bunch. It provides an integrated video chat feature for mobile games. So if we see any similar opportunities in India, we might consider them.
Kr: How many investments do you plan to make in India this year?
YK: Initially, we wanted to make investments in five to 10 startups. But things might slow down now because of the coronavirus, since I can't really have face-to-face meetings. I can't really offer an exact number, but we want to invest aggressively. Apart from startup investments, we have decided to start our own content business in India.
Kr: What kind of content platform will you launch in India?
YK: We want to bring Japanese kids anime to India. In Japan, the population of kids is decreasing because the society is aging, but there are a lot of quality animation shows that already existed in Japan during the 1980s and 1990s. And looking at India, there are so many kids, but there is not much content for them. We want to bridge that supply and demand gap by bringing Japanese kids anime and localize it to India, in vernacular languages.
Kr: Will it be a mobile-based application, or will it be available on TV or Netflix?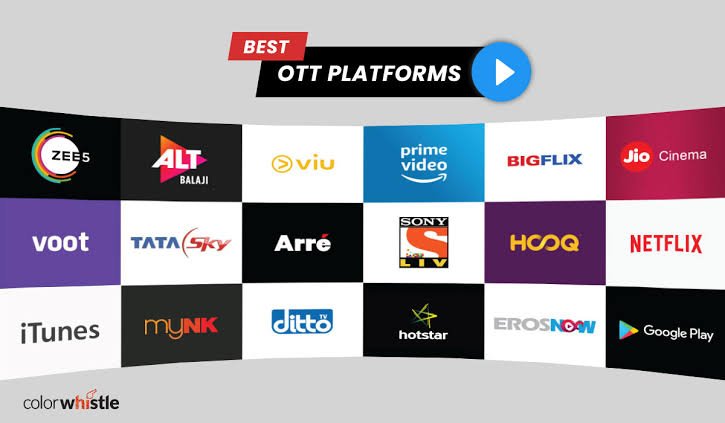 YK: We are considering all mediums, but we may start with OTTs like YouTube, Netflix, or Hotstar, and then shift towards cable TV. Because of the coronavirus situation, the project has been delayed. Since I can't visit India, negotiations have not been going smoothly. So we can't predict the timeline yet, but we are trying to launch by the end of this year. We are in the preparation phase right now.
Kr: Do you think Japanese investors' sentiments are changing and that investments from Japan are slowing down because of COVID-19?
YK: If we specify investments from Japan to India, then I would say yes. Even before the pandemic, India was not a high priority for most Japanese companies. And after this, because of global uncertainty, everyone is pulling money from overseas and bringing it back to Japan. So, until we see past this coronavirus, at least for the next six months to one year, I'd say investment from Japan to India will be quite slow. For guys who already have a footprint in India and are trying to invest aggressively, like us, I think it's really tough.
Kr: In your observations, how have early-stage companies been dealing with the COVID-19 crisis?
YK: We only invest in those in the online content space, so I can't really comment on other sectors. But if I just think about our portfolio companies, even though they are growing, they are trying to optimize their cash spend. So that's a trend we're seeing. It's mostly business as usual.
For early-stage startups in our portfolio, we are still in the process of figuring out the product-market fit, so I don't think the coronavirus will impact them a lot compared to late-stage startups. We tell our portfolio companies to focus on what we have to do and what we have to develop for the users.
We see a big opportunity in the next 500 million vernacular internet users. Right now, more than 95% of internet content is in English. But if those 500 million vernacular speakers are brought onto the internet, we have to have some content for them. There's a huge supply-demand gap here, so we are pushing our portfolio companies to normalize that gap to capture this huge market opportunity.
Kr: In India, short video and gaming companies don't have any revenue models. How do you look at that?
YK: I think it will get better. The US, Japan, and China went from an advertisement model to an in-app purchase model, which took them five to 10 years. I think India is also on the same track. Right now, in-app purchases are not that popular compared to other countries, but within the next five years or so, I'm quite confident that there will be a behavioral change and users will actually buy digital items online. That's why we are investing today—to capture that huge uptake in five years
Source :- liveMint , Animation Express & KrAsia.
ABOUT AKATSUKI ENTERTAINMENT !
Launched in September 2017, Akatsuki Entertainment is a revolutionary new approach to adaptation and intellectual property (IP) value expansion in the mediums of film, television, digital, and animation.
Equipped with both development and production financing, will not only self-finance, but also co-finance production, working in close collaboration with Japanese creators and IP owners. Akatsuki Entertainment will bring exciting, accessible, and commercially-strong properties to American studios and production companies, facilitating the creation of new versions of these valuable IP in the form of Hollywood adaptations. Via these adaptations, the Japanese side will achieve significant brand expansion and improved global IP recognition, while Hollywood entities will gain access to lucrative and original concepts to launch rewarding new franchises. Adaptations will not only be limited to big-name IP. We pride ourselves on finding the best stories Japan has to offer, and often will find them via independent filmmakers and first time authors as well.
In addition to bringing Japanese content to Hollywood, Akatsuki Entertainment will also be instrumental in bringing original concepts to Japan. Working with established Japanese creators and studios, Akatsuki Entertainment will create concepts to be developed as original manga, anime, and other media within Japan, for a Japanese audience. Once created, these original properties will be open to further expansion and international exploitation, potentially becoming the basis for future live-action Hollywood adaptations.
Akatsuki Entertainment brings an experienced, dedicated group of internationally-minded creative professionals to the challenge of global collaboration. Combining knowledge of the Japanese creative industry with mastery of Hollywood story structure and development strategy, the women and men of Akatsuki Entertainment bring a unique approach to both adaptation and original concept generation.